The most beautiful beaches in Reunion Island
Enjoy the most beautiful beaches in Reunion Island, located mainly on the west coast of the island!
Learn everything about the beaches where you can swim safely in Reunion Island!
Boucan-Canot Beach
Boucan-Canot has one of the most beautiful beaches in Reunion Island, with its large white sand beach.
You will safely enjoy swimming in the Indian Ocean. An anti-shark net has been installed since 2018
You will also enjoy the natural swimming pool of Boucan Canot, a seawater swimming pool protected by rocks which allows swimming in complete safety.
Enjoy lots of bars and restaurants along the beach. You can drink a cocktail or eat an ice cream in front of the indian ocean.
Grand-Fond Beach
Grand-Fond beach is a pretty white sand beach. It is wilder than Boucan-Canot beach and more quiet. There are wonderful houses along this beach. A perfect spot to walk along the beach at sunset!
Roches Noires Beach
There is an anti-shark net on Roches Noires Beach. You will enjoy this beach in Saint-Gilles-les-Bains downtown close to the marina.
Close to the beach, there is a place "esplanade des Roches Noires" with many restaurants and bars in front of the indian Ocean. A perfect place for the sunset.
Brisants Beach
Brisants Beach is a wonderful white sand beach near the Saint-Gilles-les-Bains marina. You cannot swim here, on the right side of the beach but you can have a drink at "Le Sauvage" restaurant, a really nice spot.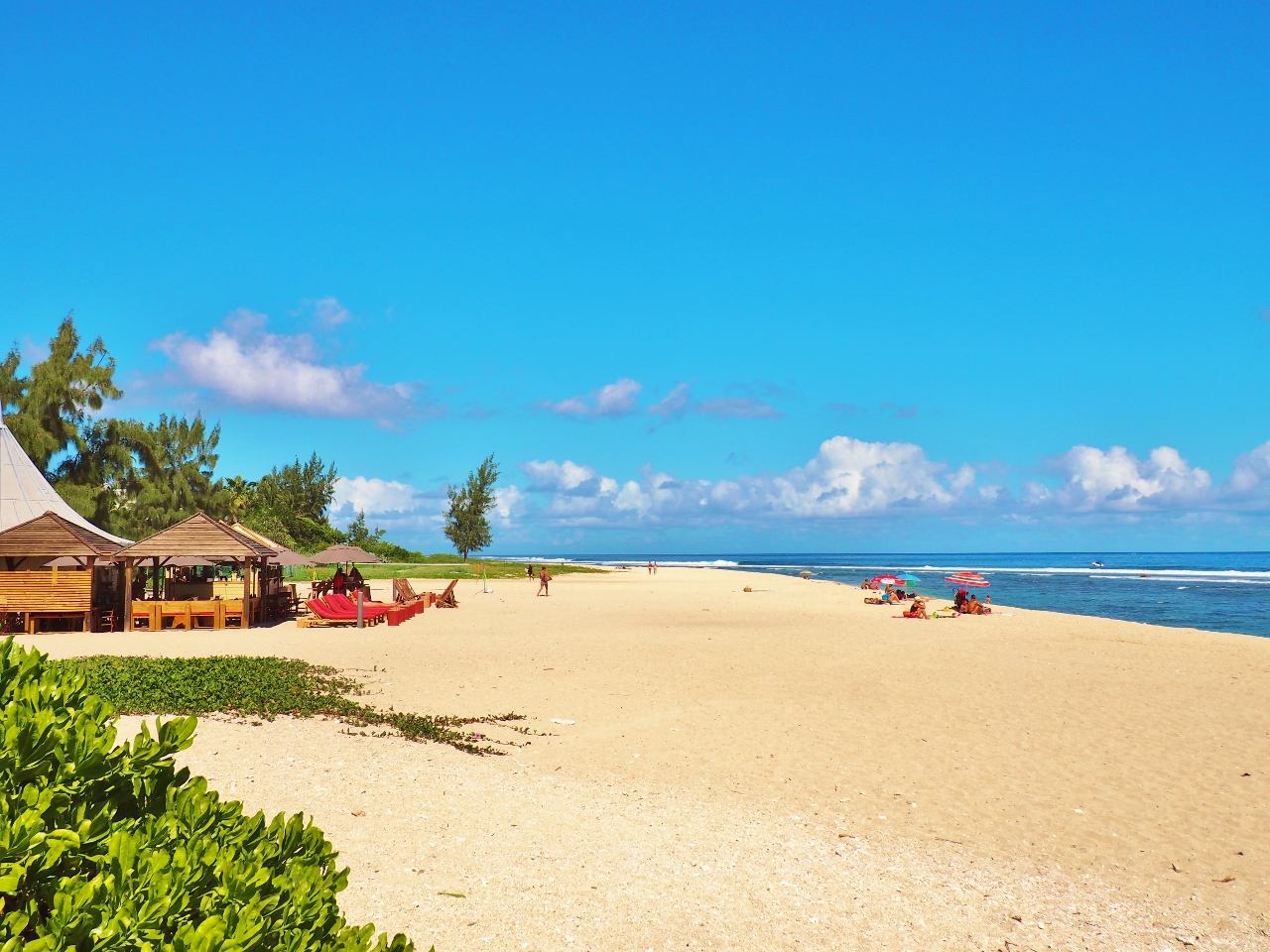 Ermitage Beach
Ermitage beach is a wonderful beach on Reunion Island. With its 7 kilometers of white sand, you will enjoy the lagoon, an area protected by the coral reef. It is the perfect spot for children with its shallow water.
Here snorkeling with multicolored fishes is a really nice!
The water temperature of the lagoon is warmer than that of the ocean due to the shallow depth (1 to 2 meters of water). The lagoon water temperature is between 23°C during the austral winter (May to September) and 30°C during the austral summer (October to April).
Saline-les-Bains Beach
The beach and lagoon of Saline-les-bains is only an extension of the beach of Ermitage.
You can enjoy the lagoon with some water activities (such as paddle or kayak).
Trou d'Eau Beach
Trou d'Eau beach is the extension of Saline-les-Bains beach.
You can enjoy some water activities too.
Saint-Leu Beach
In Saint-Leu, there are two beaches where you can swim: Citerne 46 and downtown beach. Protected by small lagoons, you will enjoy swimming in complete safety.
Étang-Salé Beach
Here there is no white sand, only black sand which can be very hot. There is a swimming area protected by a small coral reef on the south of the beach. There is a few restaurants and snack bars.
Be careful, it is forbidden to swim on the north of the beach.
Saint-Pierre Beach
Saint-Pierre beach is in Saint-Pierre downtown with many shops and restaurants along. It is a large area of white sand protected by a lagoon. Don't miss snorkeling to see multicolored fishes.
Grande-Anse Beach
Grande-Anse beach is a paradise with its white sand, its waves and coconut palms. In the south of the island, this is one of the most beautiful beaches in Reunion. Unfortunately you can only swim in a pool set up between the rocks to the south of the beach.
Manapany-les-Bains Beach
Manapany-les-Bains beach offers a wild setting in Saint-Joseph. You can swim in a large pool made up of volcanic rocks.
About Tropical Home
Tropical Home hopes that you enjoy the most beautiful beaches in Reunion Island.
Tropical Home offers exclusive selection of seasonal rentals for your stay in Reunion Island.